Antonio Molina is Professor of Biochemistry and Molecular Biology at the Department of Biotechnology and Plant Biology of the Universidad Politécnica de Madrid (UPM). Since February 2016 he is Director of the Centro de Biotecnología y Genómica de Plantas (CBGP), that has been awarded as Centre of Excellence "Severo Ochoa" (SO) by the Spanish Research Agency. Antonio Molina is one of the Co-Director of the recently created Centre of Excellence for Plant-Environment Interactions (CEPEI).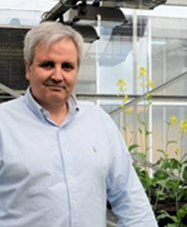 The research activity of the group of Dr. Molina at the CBGP focuses on the study of Plant Immunity and its applications to crop protection. Dr. Molina has published more than 70 scientific articles being a recognised expert in the area of plant innate immunity, resistance to necrotrophíc fungi and the function of plant cell wall in immunity. In this area, his group has done significant progress in the last years and has found that plant cell wall is a source of signalling molecules that trigger immune responses and that can be used in crop disease resistance to replace and reduce the use of chemical pesticides.

Dr. Molina has developed an intense activity of innovation and technology transfer in collaboration with national and international companies that resulted in several Patents exclusively licensed to companies and in the commercialization of agrobiological products for sustainable agriculture. He is the co-founder of PlantResponse Biotech SL (PRB), a UPM spin-off enterprise, and he is currently Chairman of its Scientific Advisory Board. He is also Co-founder of FAIR Data Systems an start-up of the UPM.